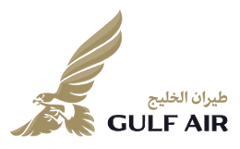 Earn Falconflyer Miles with Hertz
It's so rewarding to be a Falconflyer member—and with Hertz, you get even more. We've partnered with Gulf Air, the flag carrier of the Kingdom of Bahrain, to give you discounts and miles every time you rent with us. Simply book a car to receive a discount of up to 10% and up to 500 miles per rental. The more miles you have, the more free Gulf Air flights, seat upgrades, and privileges you get!
The Rewards of the Open Road
Falconflyer members enjoy special discounts and miles every time you rent with Hertz at any of our participating locations.
You'll Enjoy:
Up to 10% off rentals worldwide
500 miles per rental using standard rates
250 miles per rental using corporate rates
Free membership to Hertz Gold Plus Rewards
Prepare for the Journey
The road is a lot less bumpy when you have everything ready before you leave.
Visit www.hertz.com/gulfair
Provide your Falconflyer membership number at the end of the booking process
Show your Falconflyer membership card when you pick up your vehicle
If you're missing Falconflyer miles after a rental from Hertz, request a Retroactive Mileage Credit up to 6 months after your rental date with the Retroactive Claim Form.
A Reminder About Rates
Enjoy 500 miles per rental on qualifying rentals at standard rates with the exception of all other tour operator rates, tour package rates, insurance rates and insurance replacement rates, inclusive tour rates, wholesale rates, travel rates, staff rates, corporate rates, promotional rates or rentals booked via other intermediaries. Car rental bookings through gulfair.com are not entitled to mile accruals.
Hertz Is Waiting
Have a question? Need more information?
In Bahrain? Call Hertz at (+973) 6500 9560 or contact your local Hertz office.